Top Tips & Features for Your Thermoform Tray Design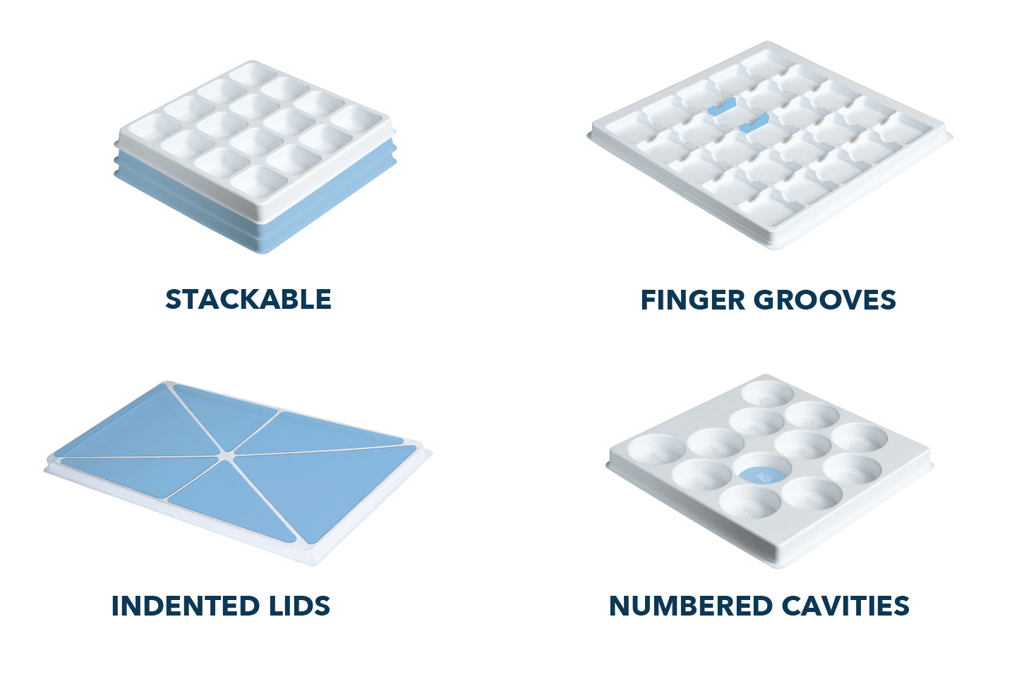 Looking for the perfect plastic shipping tray for your business? Ready-Made Plastic Trays is a leading manufacturer of thermoformed trays, offering wide-ranging options from custom-shaped containers to stacking platforms.
---
Many of our trays showcase unique features that suit a multitude of use cases, including easy storage and quicker assembly. In the sections below, we've gathered some of the top features to look for when selecting the perfect plastic tray for your application.
Even in the most demanding applications, our team of tray experts is here to help with personalized design options like these.
Thermoform Tray Features and Top Tips
1. Finger Grooves
Trays with finger grooves make it easier than ever to transport parts, place them, and remove them with maximum efficiency. Not only that, but they're also the perfect solution for preventing shaking and jostling during transport/movement.
When you need to retrieve a part, finger grooves provide just enough space to remove them without any hassles. Don't struggle with removing/placing complex or delicate parts in your trays any longer, and choose thermoformed plastic trays with this ergonomic feature for your next project.
Finger Groove Tip:
Do you want a stock tray, but wish it had finger grooves? No problem – we can customize the design in our CNC tooling shop! We'll make sure the finger grooves are where you need them to be, in any location that fits the tray's specifications.
2. Stackable Design
If you want to maximize your storage space and keep small parts from falling out, stackable thermoform tray designs are the answer!
By stacking trays together, you can save on costs and expenses by not having to buy separate lids, since a stackable tray design can act as a lid for better nesting. Not only that, but the pockets in deeper trays help keep even the smallest parts securely stored away, avoiding the difficulties that come along with storing small parts in little pockets.
Stackable Design Tips:
You can use stackable trays as lids to secure your parts better by nesting them
You can quickly de-nest trays by turning them 90-180 degrees
3. Indented Lids
Indented lids on thermoformed plastic trays offer some unique space-saving and security advantages compared to other types of packaging.
For one, they're stackable, meaning that multiple layers of product can be safely and reliably packed into one container. This is ideal for transport and storage, as stacked trays won't move around and risk losing or damaging the contents.
Indention allows both parts and trays to have minimal movement during transport or storage, making them ideal for large volumes of parts.
Indented Lid Tips:
4. Numbered Cavities
Ever wanted to organize items or parts in perfect sequence? With a custom thermoformed tray design, you can do just that.
These trays feature numbered cavities that are designed to make it easier than ever to set up items in the exact order you desire. If you intend to use your trays as a workstation for the assembly of products, numbers keep the order of operations clear and repeatable. If you need products arranged flawlessly and without hassle, try numbered cavities to better organize your stock.
Numbered Cavities Tip:
This is especially useful for Robotic Process Automation (RPA) applications where sequencing must be consistent for every tray assembly process.
Bonus Tip!
If you have several trays stuck together, you can quickly and easily get them unstuck by pulling from the corners.
Get Started with Ready-Made Plastic Trays Today
Ready-Made Plastic Trays is dedicated to providing customers with plastic cavity trays that go the distance while emphasizing recyclable and cost-effective design. Made from High-Impact Polystyrene (HIPS), our wide tray selection allows you to choose size, pocket shapes and configuration, lids, and more.
With the ability to easily fit in most compact spaces, resist the wear and tear of daily use, and incorporate custom branding solutions, these trays are ideal for a wide range of business use cases. For businesses looking for an economical, easy-to-use space-saving tray, thermoform trays are the perfect choice.
Set your business up with a versatile, cost-effective storage and shipping solution. Shop Ready-Made Plastic Trays today and revolutionize the way you store and ship your goods!